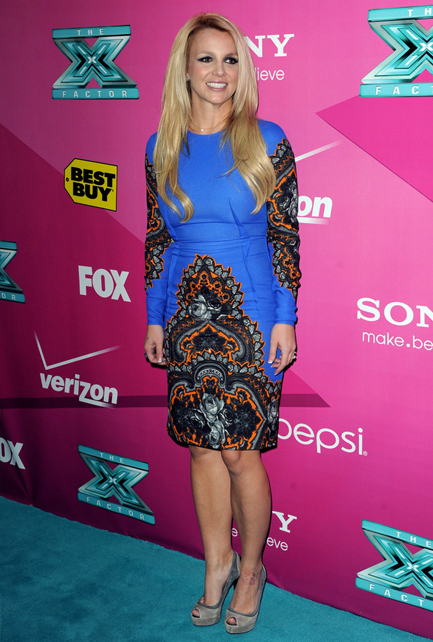 IT'S BRITNEY BITCH!
BRITNEY SPEARS ATTENDED THE PREMIERE OF 'X FACTOR USA' SEASON 2 IN A BLUE PRINTED STELLA MCCARTNEY DRESS FROM THE DESIGNER'S PRE FALL 2012 COLLECTION.
WHILST I TOTALLY LOVE THE DRESS, SOMETHING FEELS OFF TO ME.
I THINK IT'S HER SHOES AND MAYBE THE DRESS NEEDS TO BE A SIZE LARGER.
THE PRINT IS AMAZING AND IT'S THE BEST SHE HAS LOOKED IN A LONG TIME, AND I LOVE THAT BRITNEY IS TAKING A FASHION RISK.
I LOVE YOU BRITNEY, BUT ONE MORE THING:
HAIR WOULD OF LOOKED BETTER UP.
AND YOUR POSTURE.
SHOULDER BACK, CHEST OUT.