FEW CAN DRAW EMOTION FROM A SHOW LIKE MARC JACOBS FOR LOUIS VUITTON.
WHO COULD FORGET HIS TRAIN THEMED COLLECTION FOR FALL 2012 THAT LITERALLY BROUGHT A TEAR TO MY EYE (I WISH I WAS THERE)?
THIS SEASON HOWEVER MADE ME SMILE.
FROM THE MOMENT THE MODELS TOOK TO THE ONE OF FOUR ESCALATORS THAT WERE ADORNED WITH YELLOW AND WHITE STRIPES, THE MODELS WHO WERE IN PAIRS WALKED ONTO THE YELLOW AND WHITE CHECK PATTERN FLOOR.
JACOB'S COLLECTION FOCUSES HEAVILY ON CHECKS OF ALL SIZES WITH SHADES OF YELLOW, GREEN, BROWN, BLACK AND WHITE.
A 1960S VIBE THAT HAD EVERY MODEL WITH A BOW IN THEIR HAIR. BUT KEPT MODERN WITH ROUNDED SHOULDERS AND SKIRTS OF VARIOUS LENGTHS.
I LOVE THE BRIGHTNESS AND FEELING OF HAPPINESS WITH JACOBS' COLLECTION. THE USE OF PAIRS ARE MY HIGHLIGHT, AS WITH THE BRIGHT YELLOWS AND BLACK AND WHITE.
IF YOU HAVEN'T SMILED YET,
WHAT IS WRONG WITH YOU?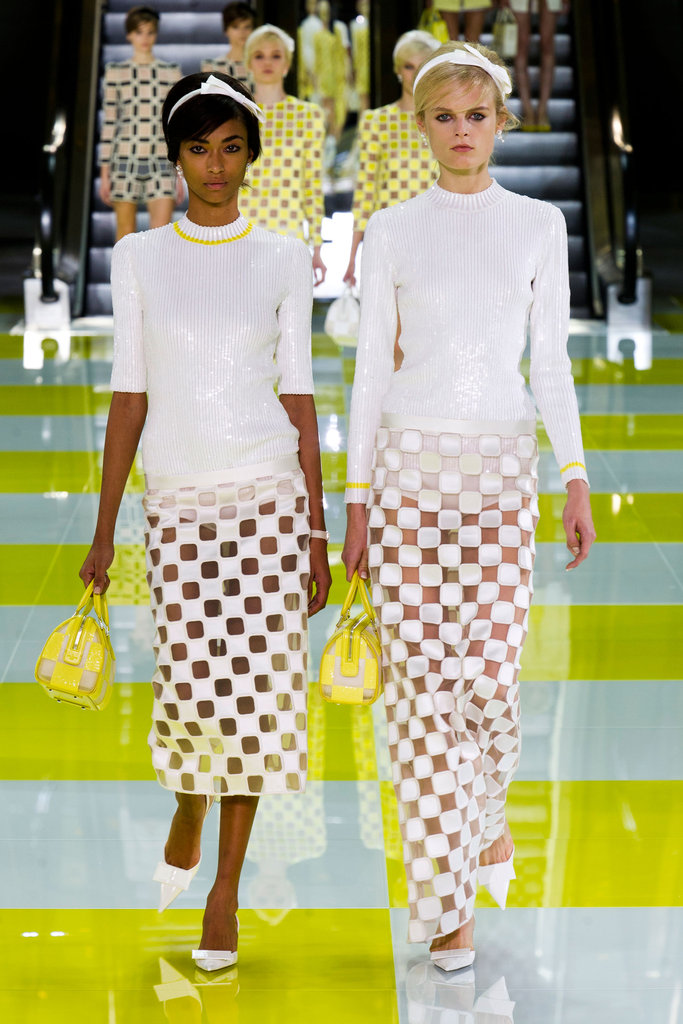 PHOTOS: IMAXTREE