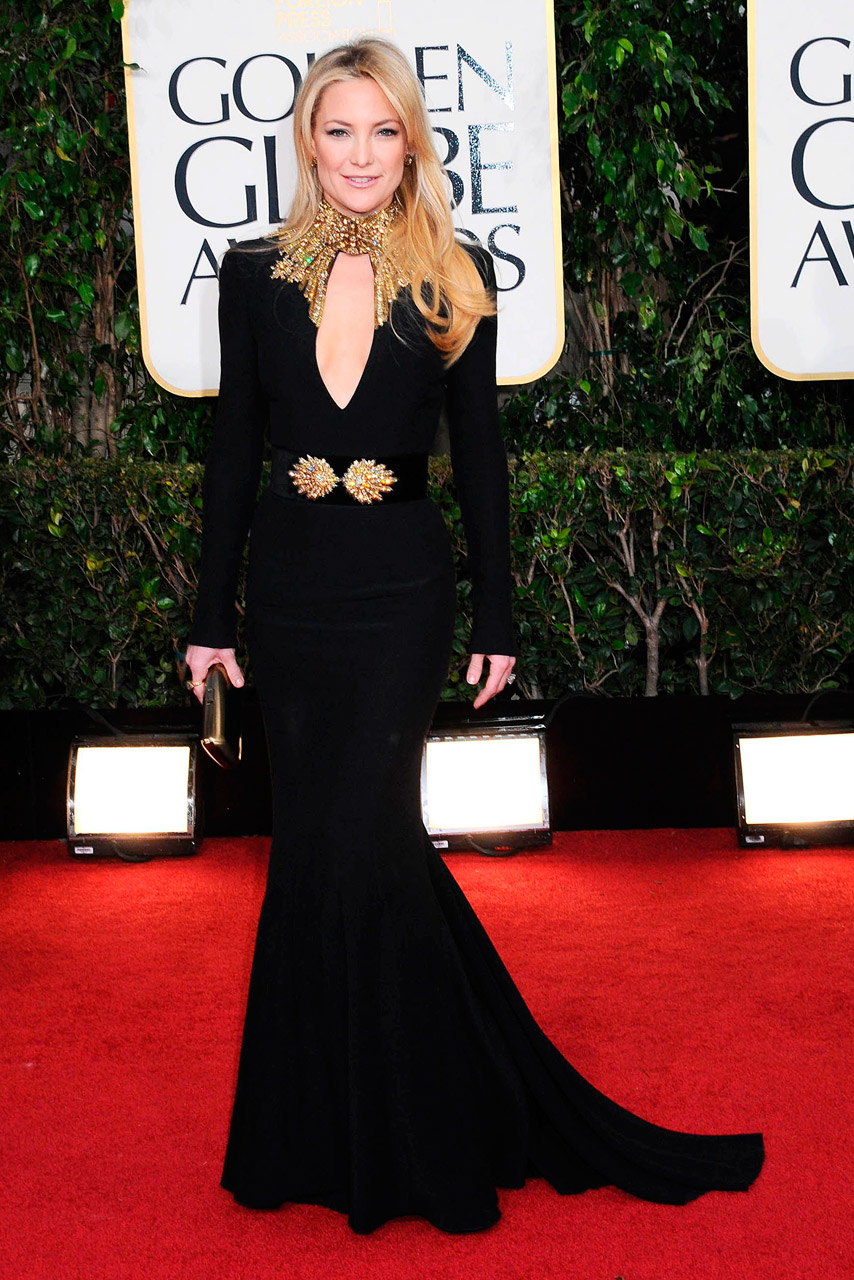 I WAS AT HOME MINDING MY OWN BUSINESS, WATCHING E! RED CARPET, WHEN I WAS STUNNED AND SPEECHLESS, WITH EVEN MY FIANCE ASKING WHAT WAS WRONG. MY ANSWER:
"UMMM, KATE HUDSON, PERFECTION!"
ATTENDING THE 2013 GOLDEN GLOBE AWARDS HELD AT THE BEVERLY HILTON HOTEL IN CALFORNIA, KATE HUDSON DAZZLED IN A ALEXANDER MCQUEEN BLACK LONG SLEEVE GOWN. YET AGAIN I CRIED.
THIS STUNNING GOWN IS JUST FLAWLESS. SEXY AND ALLURING WITH THE TO-DIE-FOR EMBELLISHED GOLD LEAF KEYHOLE DETAIL AND JUST ENDS PERFECTLY WITH THE GOLD DETAIL ON THE WAIST.
I DID QUESTION THE HAIR BEING OUT. ASKING MYSELF 'WILL THE DRESS LOSE IT'S IMPACT?'
BUT I STOPPED ASKING THAT WHEN I COULDN'T STOP LOOKING AT HER STUNNING DRESS.
I AM IN LOVE WITH THIS GOWN. HUDSON GLOWS AND SHE LOOKS LEAN AND GORGEOUS.
MINIMAL MAKE UP AND A GOLD ROGER VIVIER 'BOITE DE NUIT' CLUTCH COMPLETES A KILLER LOOK.
BEST DRESSED OF THE NIGHT.
DO YOU THINK SHE ROCKED IT???