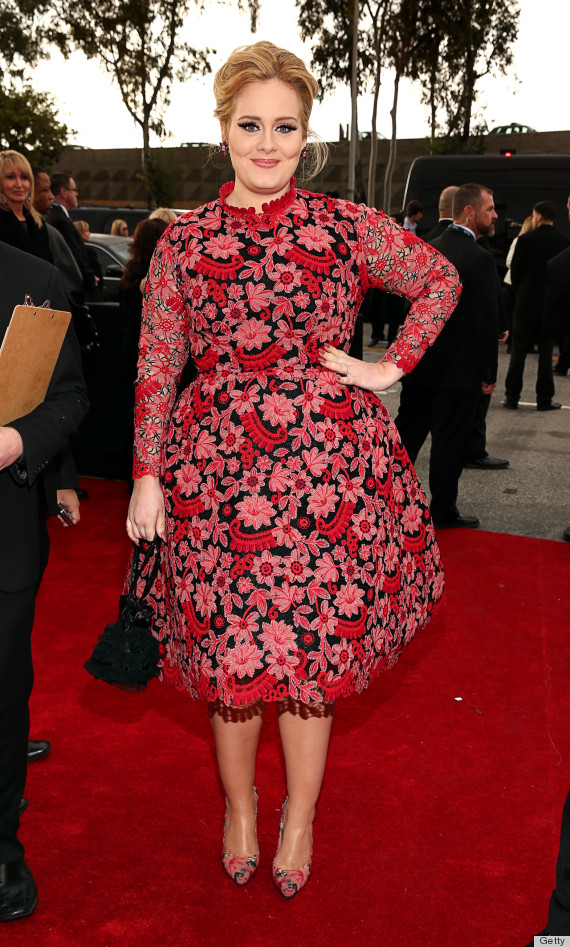 I WAS ACTUALLY QUITE SPEECHLESS WHEN I SAW PAST GRAMMY WINNER AND WINNER ON THE NIGHT ADELE ON THE RED CARPET OF THE 2013 GRAMMY AWARDS AT THE STAPLES CENTRE IN LA ON SUNDAY EVENING.
NOT ONLY DID SHE LOOK STRIKING IN HER VALENTINO COUTURE SPRING 2013, SHE PROVED THAT YOU DON'T NEED TO BE A SIZE 0 TO LOOK PERFECTION.
OPTING FOR A STUNNING BLACK AND RED KNEE LENGTH EMBROIDERED FROCK, ADELE HAS NEVER LOOKED BETTER. IT ALSO PROVES HAVING A CHILD CAN DO WONDERS.
I LOVE THE LENGTH ON HER, THE LONG SLEEVES. BUT THE FULL VOLUMINOUS SKIRT IS JUST THE ICING ON THE CAKE FOR ME. AND I DIDN'T THINK I'D LIKE THE MATCHING PUMPS, BUT IT WORKS.
SO GLAD SHE OPTED FOR KNEE LENGTH. THE RUNWAY VERSION IS UNSUITABLE FOR HER AND THE EVENT.