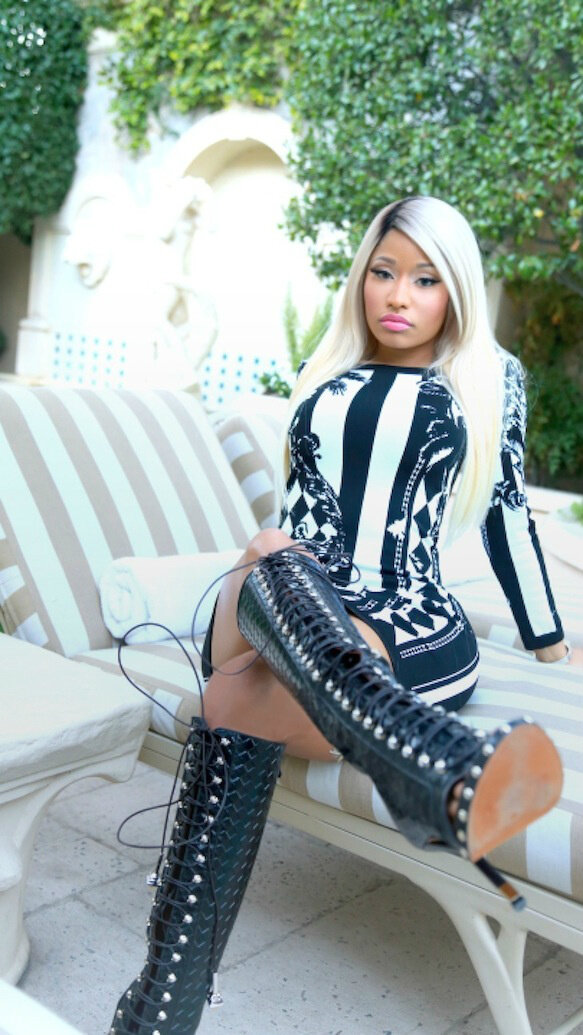 HOLY NICKIOLY!!! I NEARLY DIED WHEN I SAW NICKI MINAJ IN HER BLACK AND WHITE BALMAIN FLORAL STRETCH KNIT DRESS THAT SHE POSTED ON TWITTER WHILE IN LAS VEGAS EARLIER TODAY FOR AMERICAN IDOL, SHE WORE THE DRESS LIVE TOO.
HER GIVENCHY QUILTED BOOTS ARE HEAVENLY.
SINGER, BRANDY NORWOOD WORE THIS A FEW WEEKS AGO IN A LOT SIMPLER WAY, WITH BLACK PUMPS AND A CLUTCH, WHICH STILL LOOKS NICE, BUT DOES NOT COMPARE TO HOW EDGY NICKI MINAJ WORE IT.
S-T-U-N-N-I-N-G!!!
THE DRESS FEATURES A SQUARE NECKLINE, DEEP V BACK AND A VERY VERY COOL FLORAL GEOMETRIC PRINT, WHICH I ADORE.
I MIGHT HAVE MYSELF A NEW FASHION CRUSH.
BUY THE DRESS!!!!
BUY THE BOOTS!!!