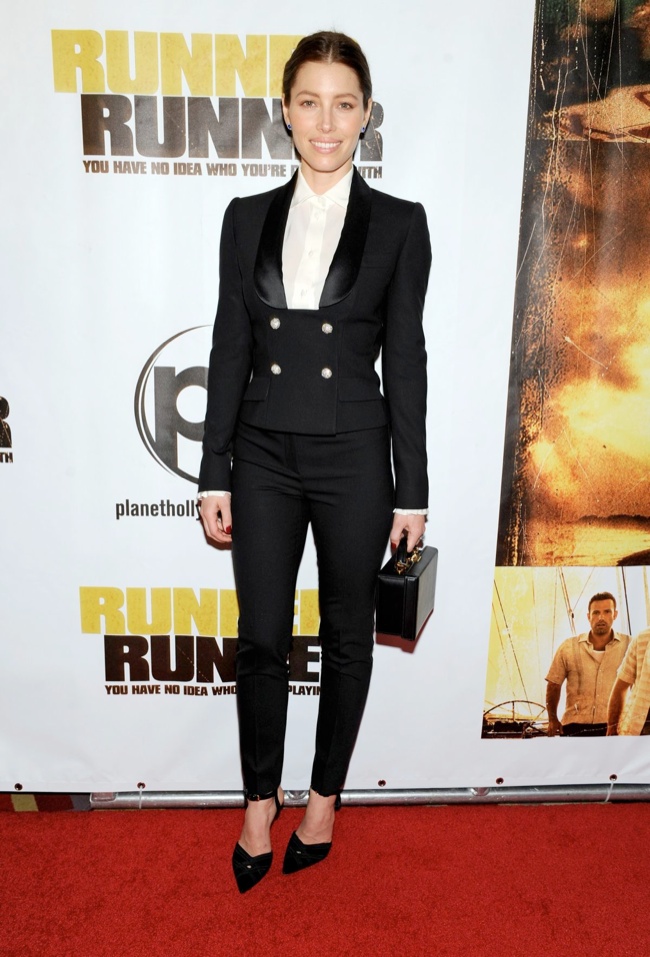 There are none too many women that can out-do their dates in the suit department, but actress Jessica Biel certainly did when she accompanied hubby Justin Timberlake to the world premiere of his new movie 'Runner Runner' at Planet Hollywood Resort and Casino in Las Vegas, Nevada.
Wearing a beautifully tailored Dolce & Gabbana Resort 2014 double breasted suit featuring diamond encrusted buttons, Jessica pulled off the 'man look' brilliantly. I almost get a 'Victor Victoria' vibe.
I laughed when I saw Justin and Jess together in almost matching suits, but individually, she rocks it.
I love how she kept it simple with her hair do, but I wish she had matched her lips to her oxblood coloured nails.
Styled with black Giambattista Valli pumps and a killer Mark Cross 'Grace' box bag plus Martin Katz sapphire earrings.
Julie Andrews mans up in 'Victor Victoria'