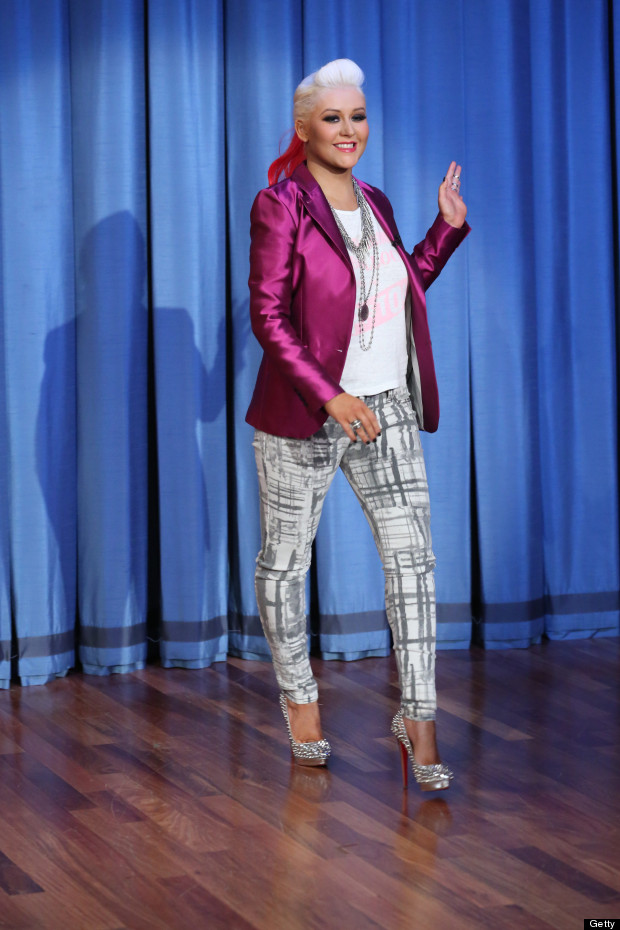 OK CONSIDERING SOME OF THE GHASTLY THINGS CHRISTINA AGUILERA HAS BEEN WEARING, I AM VERY HAPPY SHE WORE A BIT OF COVERAGE FOR HER APPEARANCE ON JIMMY FALLON A WEEK AGO.
I LIKE HER SHINY PINK BLAZER, TOTALLY YUMMY SKINNY JEANS AND SHOEGASMIC STUDDED CHRISTIAN LOUBOUTIN HEELS. OH AND NOT TO FORGET HER DIP DYED LOCKS, WHICH LOOKS HEAPS BETTER THAN HER OTHER ATTEMPTS.
SHE LOOKS SEXIER LIKE THIS THAN HER TIGHT BODY CON DRESSES. SHE ACTUALLY LOOKS SMALLER.
VERDICT: I THINK SHE LOOKS CUTE!!!