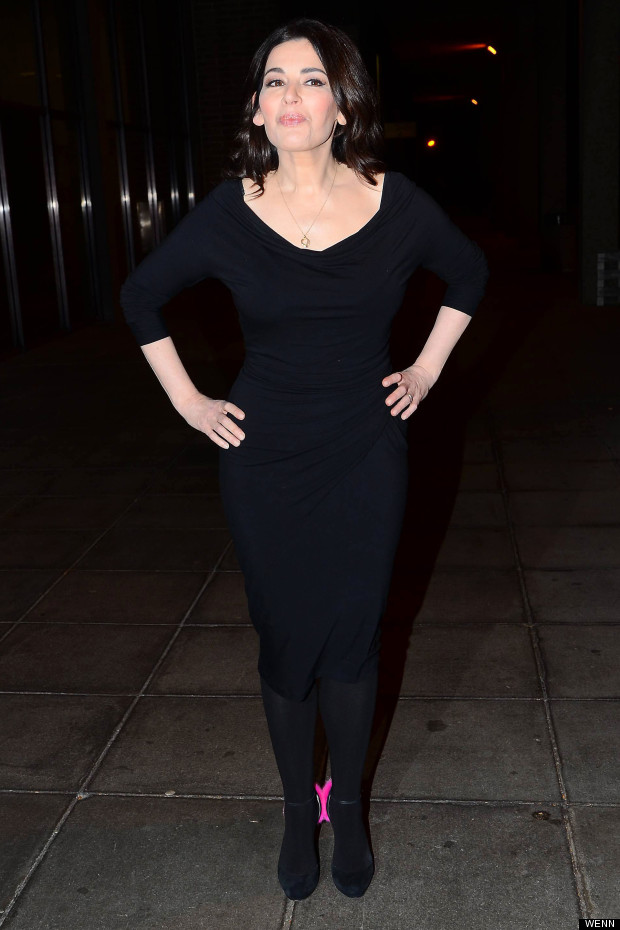 IN DUBLIN, IRELAND FOR HER CHAT SHOW APPEARANCE ON THE 'LATE LATE SHOW' A WEEK AGO, TV COOK, NIGELLA LAWSON LOOKED PRETTY STUNNING IN ALL BLACK, HER CURVES LOOK SPECTACULAR. HER DRESS HUGGED HER PERFECTLY. BUT, I GET TO THE FEET.
WHAT THE???
I DON'T UNDERSTAND. YOU HAVE A GORGEOUS FACE, FLAWLESS SKIN, SPECTACULAR BODY, TO DIE FOR LOCKS.
WHY WOULD YOU RUIN IT BY SHOVING (YES SHOVING) PINK POM POMS ON YOUR FEET?
TRULY IT HAS LEFT ME RATHER CONFUSED.
IF SHE WANTED TO BE A LITTLE EDGY, ADD A STUDDED CUFF, STATEMENT HEELS, ANYTHING BUT THIS HOT PINK MESS.
NIGELLA: THIS JUST AIN'T CRICKET!!!